Hi and welcome to RED XXX, home to the UK's raunchiest Redhead! Why not dive straight in - and by the way where have you been?! You'll find 100's of galleries with literally 1000's of pictures of Yours Truly with my boys, toys & girlies! Plus more movies than you can shake a stick at - all fully downloadable to your desktop for you to keep and enjoy... I have a huge wardrobe of fabulous vintage style lingerie, FF nylons and latex - not forgetting killer heels ... and more! So as I'm a sex mad shopaholic who loves to strut her stuff in style we're in a win win situation!
Latest updates featuring Red XXX (Page 10)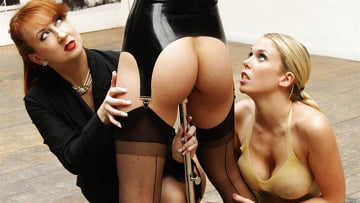 22nd February
- Jamie Brookes and Moi spend a pleasant day subjecting a poor young thing to leg spreaders and steel dildos ... so WI!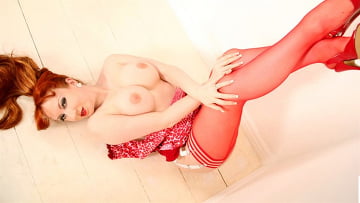 18th February
- Lets have a wank together - at least you can sort of cum over me - I'd love something hot and sticky!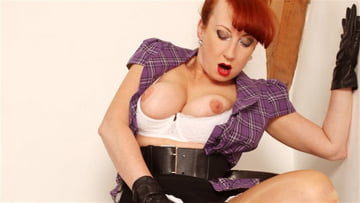 12th February
- Wearing kid leather gloves and FF nylons just makes me so wet and ready for anything!
8th February
- With my tight silver sweater & my pussy oh so accessible in my naughty split crotch panties.... what's a girl to do?!
2nd February
- I must stop sitting around playing with my precious items, but these pearls certainly keep my pussy satisfied!
20th January
- My temperature's certainly rising fucking my huge red dildo!
16th January
- Not content with a mouthful I just to had to demand more! Insatiable...Moi?!
8th January
- I really should have tried harder to swallow more...but I was hoping for seconds!
24th December
- Just what we need after a hard day at the office!
17th December
- Well, what's a girl to do but wank wearing such an 'access all areas' outfit?!
11th December
- At last an Indian Summer and I get carried away hosing the garden...wet T shirt, wet nylons and very wet Red!
6th December
- Share and share alike for double the pleasure!
30th November
- On the hottest day of the year having one of my loyal fans to hand is just the thing to cool my Red Hot pussy!
23rd November
- Moi in shiny black latex and heels? Corset is!