Hi and welcome to RED XXX, home to the UK's raunchiest Redhead! Why not dive straight in - and by the way where have you been?! You'll find 100's of galleries with literally 1000's of pictures of Yours Truly with my boys, toys & girlies! Plus more movies than you can shake a stick at - all fully downloadable to your desktop for you to keep and enjoy... I have a huge wardrobe of fabulous vintage style lingerie, FF nylons and latex - not forgetting killer heels ... and more! So as I'm a sex mad shopaholic who loves to strut her stuff in style we're in a win win situation!
Latest updates featuring Red XXX (Page 11)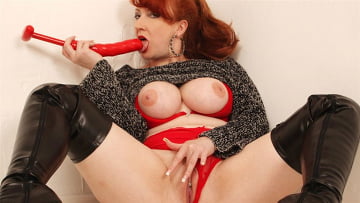 18th November
- I don't remember a huge red dildo in the original version of 'Puss in Boots' - but it's certainly given me a fairytale ending!
1st November
- Feeling very naughty in my negligee so what's a girl to do but have a wank!
24th October
- Danica and I put her new breakfast bar to the test - surely they were never made for this?!
12th October
- Just putting my rubber TV maid Katrina through her paces - starting with facesitting naturally!
8th October
- I know - reading the FT can really get you down these days, so why don't we all just have a good old fashioned wank instead!
27th September
- I managed to get some carpet burns on my own - just think what I'd be like with company!
21st September
- As you can see it takes more than a pulley and ribbon to stop me wanking!
16th September
- Don't you just fancy that!
11th September
- When my new neighbour called round wearing a corset, stockings & killer heels I guessed she was after more than a cup of sugar! Not that I need much e
ncouragement!
...Read More
4th September
- Feeling very retro in my polka dots - I wonder if they had nice big t-handle dildos in the 1950s? Oh ..."Happy Days"!
28th August
- Get me under a spotlight and look what happens ... tits out, legs open!