Hi and welcome to RED XXX, home to the UK's raunchiest Redhead! Why not dive straight in - and by the way where have you been?! You'll find 100's of galleries with literally 1000's of pictures of Yours Truly with my boys, toys & girlies! Plus more movies than you can shake a stick at - all fully downloadable to your desktop for you to keep and enjoy... I have a huge wardrobe of fabulous vintage style lingerie, FF nylons and latex - not forgetting killer heels ... and more! So as I'm a sex mad shopaholic who loves to strut her stuff in style we're in a win win situation!
Latest updates featuring Red XXX (Page 7)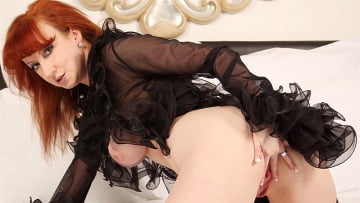 12th November
- Just my luck staying in a hotel with a king sized bed but no king sized cock... fancy joining me?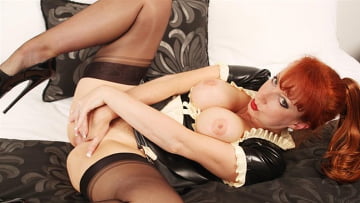 6th November
- What else when I'm wearing my sexy latex maids uniform, nylons & killer heels - not housework surely?!
24th October
- Anyone fancy a red hot shower with Moi!
20th October
- Not content with a huge silver dildo in my pussy I thought I'd try out my new lipstick vibrator on my clit...Insatiable, Moi?!
13th October
- Some days I just love having something buzzing away in my knickers!
29th September
- Leather finger fucking fun!
21st September
- I'd rather have a wank with my glass dildo and a glass of Chablis - perfectly chilled of course ... Ice Cold in Red!
14th September
- I may be tightly corsetted, but that doesn't stop me from finger fucking my wet pussy
29th August
- I hope you're standing to attention and are ready to cum on duty!
21st August
- So keen was I to try out my huge new suction dildo in the shower I forgot to undress! No prizes for guessing who had a delicious wet & wild nylon wank
!
...Read More