Hi and welcome to RED XXX, home to the UK's raunchiest Redhead! Why not dive straight in - and by the way where have you been?! You'll find 100's of galleries with literally 1000's of pictures of Yours Truly with my boys, toys & girlies! Plus more movies than you can shake a stick at - all fully downloadable to your desktop for you to keep and enjoy... I have a huge wardrobe of fabulous vintage style lingerie, FF nylons and latex - not forgetting killer heels ... and more! So as I'm a sex mad shopaholic who loves to strut her stuff in style we're in a win win situation!
Latest updates featuring Red XXX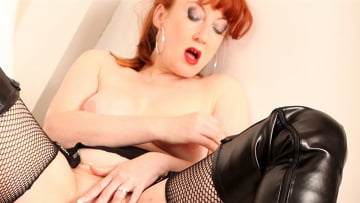 25th May
- It must be my birthday! My cunt gets such a pounding and overflows with cum - all over the furniture too - what a messy girl I am!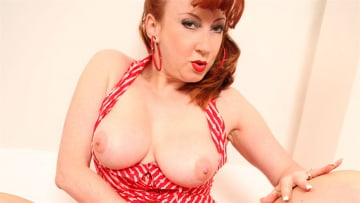 21st May
- I may have Leopard print heels but I sure know how to make my pussy purr!
11th May
- All corseted and layered in nylon - but I made sure my pantyhose were crotchless ...very easy access for my huge silver dildo!
3rd May
- Having a wank in my sheer baby doll leaves absolutely nothing to the imagination!
1st May
- Danica may not do boy girl - but boy does she do girl! One of life's little pleasures getting fucked by Danica!
22nd April
- Well there are other things to use a cat o' nine tails for other than whipping my naughty members!
1st April
- Every year when I try to attend the Chelsea Flower Show I get asked to leave - I really can't for the life of me think why!
21st March
- Just trying out my new Jodhpurs complete with a wonderful 'access all areas' zip my seamstress fitted. So if you fancy a ride in the great English out
doors I'm your girl!
...Read More
14th March
- I was meant to be powdering my nose - but something just slipped in!
5th March
- I always like an amused bouche of cum, especially if I'm the main course!